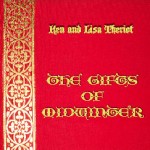 The new Christmas album, "The Gifts of Midwinter," is finally done and available for this Christmas!  In order to make that happen we had to make a digital as well as physical CD version of the album.  To hear samples of all the songs and purchase one, some, or all of the songs for instant download, click here: Christmas Music.
This album is filled with fresh Christmas music that you don't hear on every holiday collection of songs.  This CD consists of a mix of songs from the traditional to the modern, the sacred and the secular, infused with rich harmonies and rhythms that will have you wanting to shake your hips on songs you don't normally do that to:).
Here is a list of the songs.  To hear samples of all of them, click here:
1.  Gaudete
2.  Marmion's Christmas Song
3.  Cantique de Noël (O Holy Night)
4.  Do You Hear What I Hear?
5.  How Far to Bethlehem?
6.  Riu, Riu
7.  Lully, Lully (The Corpus Christi Carol)
8.  Drink to the Holly Berry
9.  Noël Nouvelet
10. This Endris Night
11. La Marche Des Rois
12. Puer Natus (A Child is Born)
13. The Boar's Head Carol
14. Personent Hodie
15. The Gifts of Midwinter
Enjoy the music and Merry Christmas!
RBM